READ THE FULL CHICAGO CLASSICAL REVIEW ARTICLE
Impromptu Fest serves up a varied feast from solo violin to sax quartet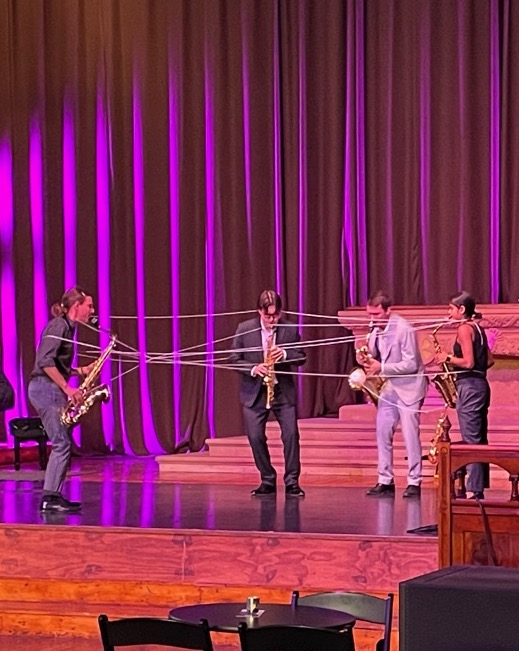 New Music Chicago's fourth Impromptu Fest continued on Thursday night with a characteristically far-reaching triple header at the Epiphany Center for the Arts. This lineup, which surveyed identity in various forms, was marked by compelling performances and cogent programming that further made the case that this year's festival is the strongest to date. 
A golden-hour glow enshrouded the masso saxophone quartet as they took the stage in the cathedral-like Epiphany Hall to open Thursday's proceedings. These relative newcomers to the local scene formed in fall 2021 while studying at Northwestern University, where the majority of the quartet's members are still completing undergraduate degrees.
For their program entitled "Inter-Acts," masso charged five composers to write musical depictions of themselves. The resultant works cohere in a multi-hued essay on the self that the quartet in turn rendered with conviction. 
The masso quartet's greatest asset might be its sensitivity and penchant for subtlety, and these works played directly to that hand. Even in their most bombastic moment — the thunderous finale to Wan Heo's Water in the Pocket — the ensemble's rich collective sound and balance were at the foreground.
Masso's academic bona fides were also well represented, as each piece had a strongly defined conceptual element. Mya Vandegrift's largely improvised A Spider Meditation, for instance, unspooled both sonically and literally as baritone player Kurt Cox, with a skein white yarn lodged in the saxophone's bell, walked around and between the huddled players, intertwining them. The imagery is a bit on the nose, but the piece nonetheless proved a hospitable arena for the quartet's deft interplay and rigorous timbral explorations. 
Another highlight was Leo Discenza's Come Closer, which seeks to portray the phenomenon of approaching an object or idea, only for it to disappear as soon as it is within reach. To explore this idea, Discenza's piece introduces melodic themes that are transformed, either in echoes that fracture and decay or pure consonance that warps into microtonality or curdles into a swarm of multiphonics.
The adventurous violinist Tricia Park took a genial approach with her eclectic program titled "From Bach to BTS," which she described as an amuse-bouche of the western repertoire for solo violin, but with a decidedly charismatic and personal flavor. 
Opening with an atmospheric, searching original entitled Textures, Park transitioned seamlessly into the Adagio from J.S. Bach's Third Violin Sonata, which she delivered with a measured, rhapsodic quality. Augusta Read Thomas' Incantation, with its lamenting acrobatics, was also given a technically precise if understated treatment. 
Park loosened up somewhat in George Walker's slinky, skittering Bleu, and outright soared in the mournful declamations of Chen Yi's Memory, which evoked the distinctive sound of an erhu, the Chinese fiddle. Another Park original, A SONIC ARC, rounded out this melancholic tryptic. 
The violinist showed her raconteurial side to introduce Paganini's thirteenth caprice, nicknamed "The Devil's Laugh" for its cascading, double-stopped theme. Park's humorous, self-deprecating remarks on this virtuosic yet self-flagellatory affair drew no shortage of chuckles from the audience; her sure-footed performance garnered applause in kind. 
"Phew, now that's over," Park quipped before explaining that the "sadistic" Paganini was a mere introduction for the texturally rich "DRAMATIS PERSONAE," the first installment of Anthony Cheung's Character Studies. This proved a striking complement to the Paganini, opening with a full-throated warble before morphing into finger-twisting showpiece of masterfully deployed extended techniques. 
After such an umami-packed pair of main courses, Isang Yun's sweet and childlike "Die Hungrige Katze" from Li-an im Garten was cleansed the palate in preparation for the cheesecake finale to this tasting menu: Park's own, tasteful and surprisingly tender arrangement of the 2020 chart-topper "Dynamite" by Korean boy-band sensation BTS. 
This was not the last grooving pop-inspired selection of the evening, however. A string quartet from D-Composed rounded out the program with a celebration of music by contemporary black composers, tipping off with "Bop," a movement from composer-baritone extraordinaire Damien Geter's Neo-Soul quartet. The players locked into the movement's driving, asymmetrical groove from the first notes, over which Caitlin Edwards' supple violin spun the expressive melody.
Brian Raphael Nabors' Linstead Market glowed with a similar verve. A musical retelling of a Jamaican folk tale, the piece dances with interlocking rhythmic figures that orbit about one another like a perfectly balanced mobile. 
A pair of local favorites and composer-string player doyennes, Jessie Montgomery and Tomeka Reid, shared top billing. Voodoo Dolls is an emblematic choice from the Montgomery catalog, evincing the composer's proclivity for dance music and facility writing for the string quartet medium. Reid's Untitled, Movement 1 — commissioned by New Music Chicago and the 2021 Ear Taxi Festival—but heard Thursday in its belated world premiere — is a prancing, pizzicato-driven whirling dervish of kaleidoscopic tonal color. 
Even amid selections by more familiar names, the clear crowd favorite was the pastiche of hard-grooving loops that is Klap Ur Handz from Daniel Bernard Roumain's String Quartet No. 5, "Rosa Parks." The audience was invited to follow the title's directive and join the quartet in the foot-stomping, hand-clapping jam session to close out the evening.