VIEW THE COMPLETE ARTICLE HERE
Macie Stewart gives her solo songs their grandest canvas yet
By J.R. Nelson and Leor Galil
October 17, 2023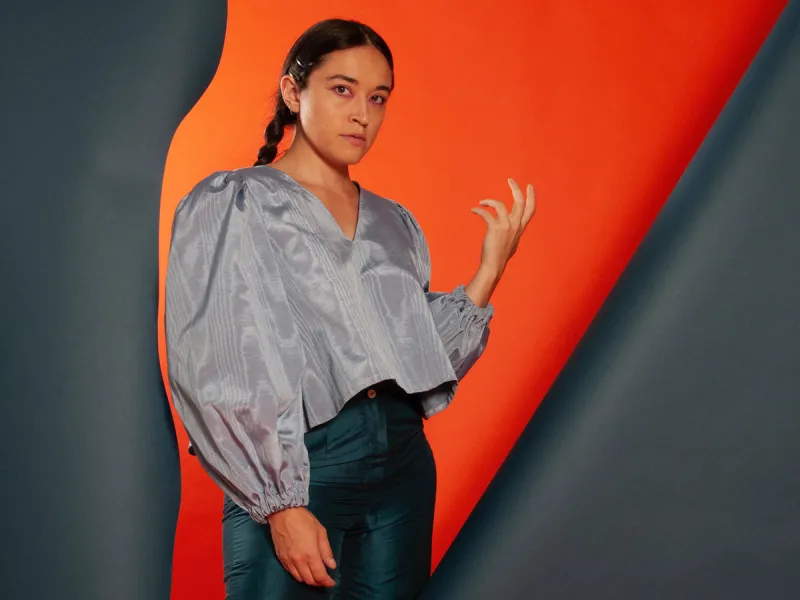 In September 2021, Macie Stewart of Finom released her debut solo album, Mouth Full of Glass. She enriched its gentle, intimate songs with opulent strings and horns, but she's infrequently performed those arrangements live due in part to the difficulty of bringing them to the stage. She assembled a sextet for a pair of release shows at the Hideout, then briefly toured her solo material in a trio with cellist Lia Kohl and keyboardist-guitarist Michael Hilger. On Friday, October 20, at Epiphany Center for the Arts, Stewart will premiere the most ambitious realization yet of Mouth Full of Glass, performing with a small orchestra.
"It feels very cathartic to be able to perform this thing that I recorded largely alone and in total isolation," Stewart says. "To perform it with a group of 12 people that I admire and love dearly, it feels full circle—but also something that I never imagined would happen with the record."
Stewart started down the road to this concert in January, when she applied for an individual artist grant from the Department of Cultural Affairs and Special Events. "I dreamed of trying to do something for orchestra," she says, "and it's hard to get that many people in a room and appropriately compensate them for their work and their time." She received the grant in August, and by then she already had an idea who she'd invite. The lineup includes Kohl, Hilger, violinists Mallory Linehan, Karlyn Gehring, and Zara Zaharieva; saxophonists Dustin Laurenzi and Sen Morimoto; cellist Olula Negre; violist Karlita Williams; double bassist Zach Moore; and multi-instrumentalist Rob Frye.
The full orchestra began rehearsing in person Monday at Experimental Sound Studio in Edgewater, and ESS is partnering with Stewart to present and promote the performance. "I wanted to work with them as well, because they have experience recording ensembles like this," Stewart says. "The performance on the 20th is going to be a live recording." The Epiphany set will also be something of a homecoming for Stewart—her teenage band Kids These Days played their second gig in the same space. "Everyone walked around the corner from Whitney Young to come to the show," she recalls. "That was kind of why I wanted to do it there too—it feels like a full-circle moment."
When local dream-pop artist Alana Schachtel, aka Lipsticism, released Two Mirrors Facing Each Other in December 2022, she explained in an artist's statement that it was recorded across four difficult years. "I was experiencing a debilitating chronic illness which sapped my energy," she wrote. "In a way, this album is a collection of songs that resulted from my own therapeutic utilization of music and the creative process." The album's lush and refreshing melodies have kept it on Gossip Wolf's playlist ever since, and earlier this month Schachtel teased a new album, Elapsed Kiss, on Instagram.
In contrast to its predecessor, Elapsed Kiss took Schachtel seven weeks to finish. "I felt so sure of the sonic world I wanted to bring into existence and the songs kept pouring out," she posted. "It usually comes very slowly to me." The album is due via UK indie Phantom Limb on Friday, October 20, and based on the two tracks released at the time of this writing, "Hold Me Release Me" and "Free," Schachtel has broadened her palette with throbbing rhythms and splashes of warm electronica. Lipsticism's next local show is at the Hideout on Thursday, November 16, opening for Fire-Toolz, RXM Reality, and Fruit Looops.