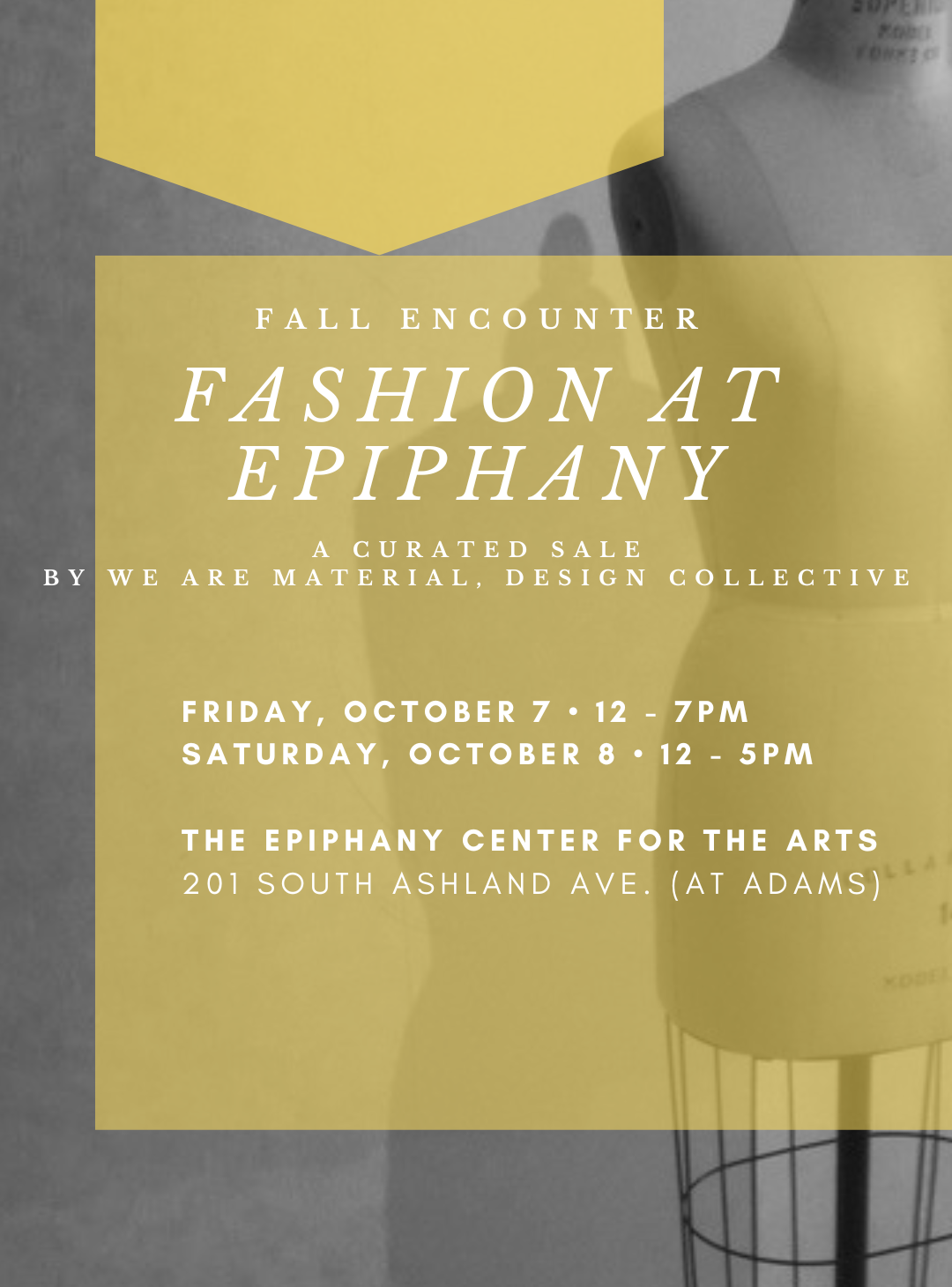 Fall Encounter – Fashion at Epiphany
A Curated Sale by We Are MATERIAL Design Collective
Fall Encounter – Fashion at Epiphany
A Curated Sale by We Are MATERIAL Design Collective
Chase Gallery at Epiphany Center for the Arts
Friday, October 7 from 12 to 7 p.m.
Saturday, October 8 from 12 to 5 p.m.
Epiphany Center for the Arts is showcasing fashion on October 7-8 with Fall Encounter— Fashion at Epiphany. This pop-up event in Epiphany's Chase Gallery is curated by we are MATERIAL, a five year old design collective founded by fashion designers Andrea Reynders and Anna Brown and metalsmith Gillion Carrara.
Fall Encounter— Fashion at Epiphany is a unique 2-day sale featuring 12 local independent designers of fashion, jewelry, and accessories: ALL WE REMEMBER, Andrea Reynders, Anna Brown, Beata Kania, Bird & Tale, Bruce Woods, Gillion Carrara, Jasper Drummond, Julia Gawron, Production Mode, Takara and The Checkroom.
Representing some of the best of Chicago fashion, these designers will show a mix of garments and accessories made in limited quantities through the artisanal process. All work exhibited will be available for purchase.


ALL WE REMEMBER
future | nature | forms: innovative, responsibly made, gender-neutral clothing

Andrea Reynders
Sculptural timeless fashion


Anna Brown
Thoughtfully manufactured and inventively created clothing


Beata Kania
Extraordinary hand-worked couture accessories

Bird & Tale
Art + design & multi-brand shop

Bruce Woods
One-of-a-kind crocheted and hand-woven pieces


The Checkroom
Modern women's outerwear noted for timeless style and quality craftsmanship

Gillion Carrara
Objects that explore the relationship between material design and function, incorporating silver, bone, horn, hardwoods, lead crystal, and porcelain with roots in craftsmanship

Jasper Drummond Bespoke menswear merging historically tailored silhouettes with contemporary edge

Julia Gawron
Delightful faux fur jackets and accessories

Production Mode
Slow fashion defined by artist collaboration and ethical manufacturing

Takara
Kinetic accessories using innovative concepts

ALL WE REMEMBER
future | nature | forms: innovative, responsibly made, gender-neutral clothing

Andrea Reynders
Sculptural timeless fashion


Anna Brown
Thoughtfully manufactured and inventively created clothing


Beata Kania
Extraordinary hand-worked couture accessories

Bird & Tale
Art + design & multi-brand shop

Bruce Woods
One-of-a-kind crocheted and hand-woven pieces


The Checkroom
Modern women's outerwear noted for timeless style and quality craftsmanship

Gillion Carrara
Objects that explore the relationship between material design and function, incorporating silver, bone, horn, hardwoods, lead crystal, and porcelain with roots in craftsmanship

Jasper Drummond Bespoke menswear merging historically tailored silhouettes with contemporary edge

Julia Gawron
Delightful faux fur jackets and accessories

Production Mode
Slow fashion defined by artist collaboration and ethical manufacturing

Takara
Kinetic accessories using innovative concepts