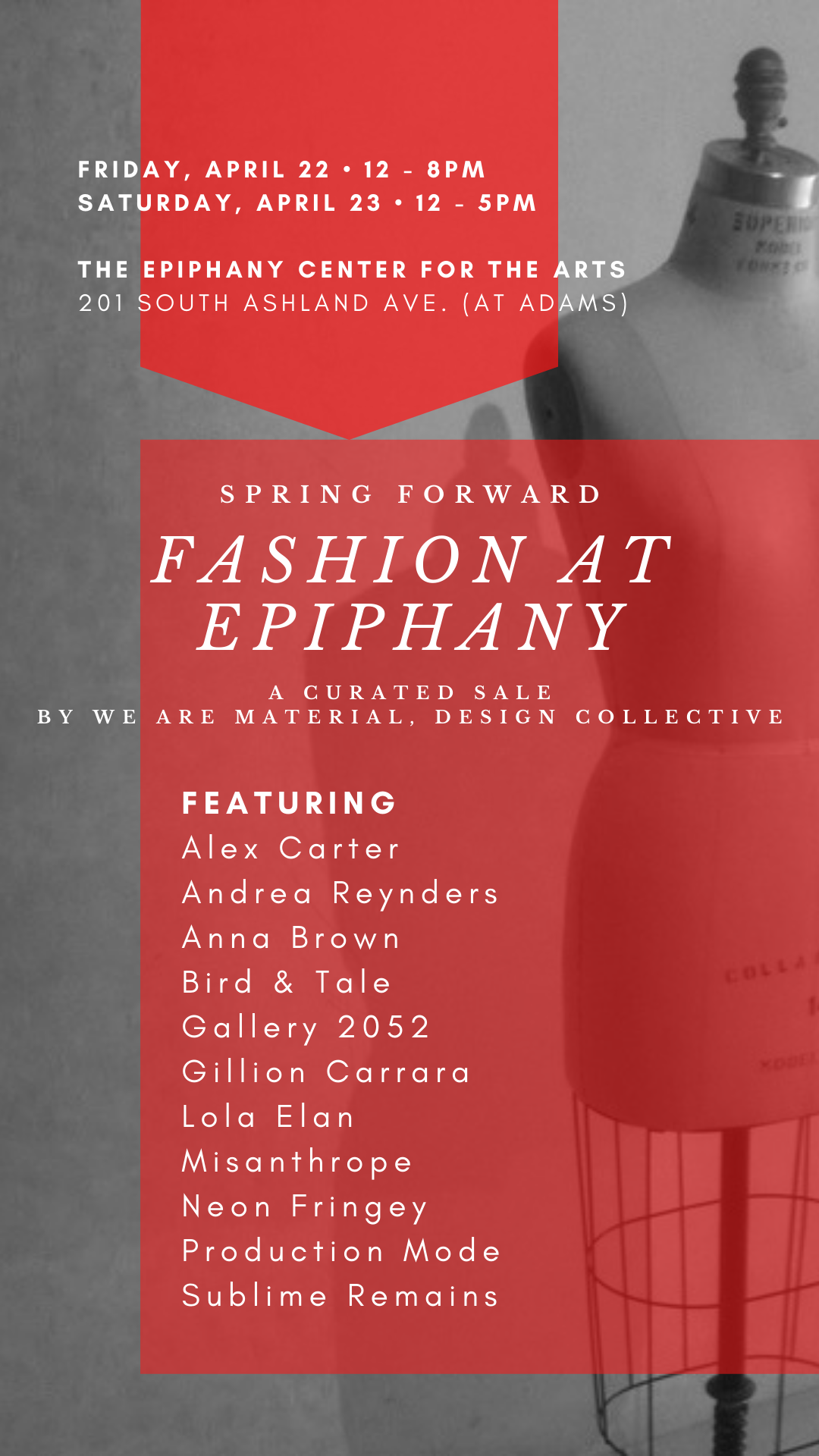 SPRING FORWARD:
FASHION AT EPIPHANY
SPRING FORWARD:
FASHION AT EPIPHANY
A Curated Sale by we are MATERIAL Design Collective
Chase Gallery
A Curated Sale by
we are MATERIAL Design Collective
Chase Gallery
Friday, April 22 – 12 p.m. to 8 p.m.
Saturday, April 23 – 12 p.m. to 5 p.m.
For the first time, Epiphany is showcasing fashion with Spring Forward— Fashion at Epiphany. This pop-up event in Epiphany's Chase Gallery is curated by we are MATERIAL, a five-year-old design collective founded by fashion designers Andrea Reynders and Anna Brown and metalsmith Gillion Carrara.
Spring Forward— Fashion at Epiphany is a unique 2-day sale featuring the work of 11 local independent designers of fashion, jewelry, and accessories: Alex Carter, Andrea Reynders, Anna Brown, Bird & Tale, Gallery 2052, Gillion Carrara, Lola Elan, Misanthrope, Neon Fringey, Production Mode, and Sublime Remains by Av Grannan.
Representing some of the best of Chicago fashion, these designers will show a mix of garments and accessories made in limited quantities through the artisanal process. All work exhibited will be available for purchase.
DESIGNERS:
Alex Carter: Fashion bridging the gap between simplicity and edge
Andrea Reynders: Sculptural timeless fashion
Anna Brown: Clothing that refines, not defines
Bird & Tale: Art + design & multi-brand shop
Gallery 2052: Contemporary jewelry gallery hosting collections by numerous studio jewelers, a rotating art jewelry exhibition space as well as an adjacent design studio.
Gillion Carrara: Singular artisan tableware and accessories for men and women, exploring the relationship between materials, design, and function
Lola Elan: Contemporary womenswear blending African roots with a modern prairie sensibility
Neon Fringey: Sculptural handmade bags designed to invoke emotion and for the sake of fashion
Misanthrope: Fashion that is defined by the void of color producing texture and shape
Production Mode: Slow fashion defined by artist collaboration and ethical manufacturing
Sublime Remains by Av Grannan: Unique wearable art that blends fashion and sustainability

R.S.V.P. for these events (walk-ins are also welcome):