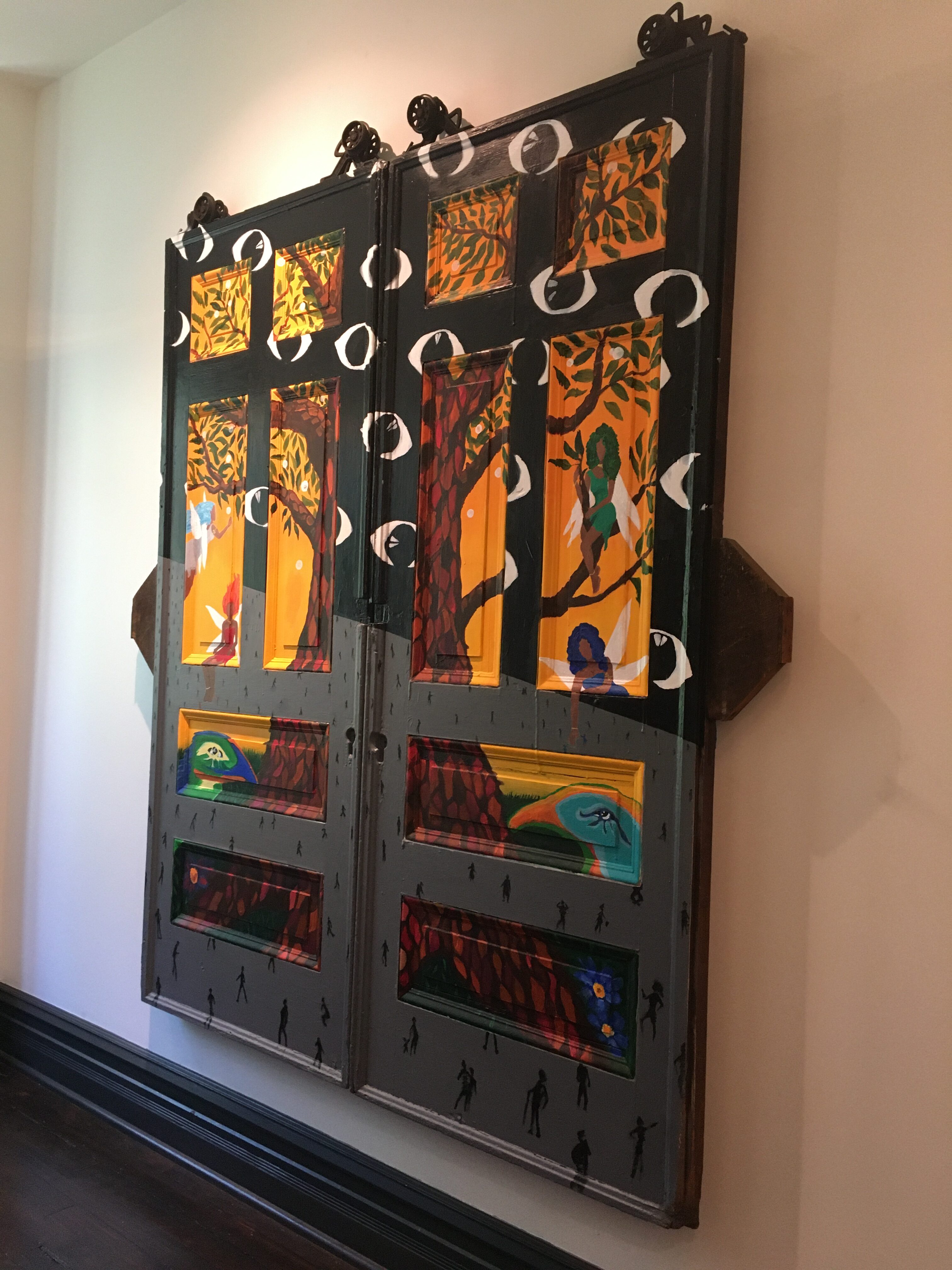 Through the Looking Glass
This mural is a collaboration between Thresholds art therapist Kathy Osler and three artists: Cherylle Booker, Darrin Dillard and Paul Montalbano, who participate in a weekly Open Art Studio on the west side of Chicago. The painting within the framework of the door is in greyscale to represent the mundane and the pressures of modern, adult life. The eyes represent how individuals live with the internalized judgments and expectations of greater society. The composition includes several motifs designed by members/artists: brightly colored birds, a foundational tree and fairies that are breaking through to invite in people who notice this other plane. This artwork represents those windows where creativity sparks an epiphany and breaks through the mundane, freeing one's spirit from social expectations and allowing space for imagination and self-acceptance.
Through the Looking Glass is the first installment in the Sanctuary Door Project, a series of murals installed on the antique doors located in the Sanctuary Hallways at Epiphany Center for the Arts. This project gives artists and organizations the opportunity for personal growth and provides a platform to share their work with the diverse audience that comprises Epiphany's patrons.
About Thresholds
Thresholds is Illinois' oldest and largest non-profit agency serving people suffering from severe and persistent mental illness and substance use. Thresholds supports individuals through community outreach and integrated health opportunities. Through unwavering community-based engagement, support, and advocacy, Thresholds helps people living with mental health and substance use conditions find a home, health, hope, and their own creative languages. They believe that everyone deserves the opportunity to live an independent, healthy life.
Thresholds Creative Arts Therapy Program is supported by passionate expressive arts therapists utilizing strengths-based and trauma-informed clinical frameworks to promote individual and community healing. Through evidence-based practices that foster self-expression, they work to build safe spaces for exploration and growth. Their clients are visual artists, musicians, performers, writers, and others interested in gaining insight into themselves and their worlds through developing and sharing their own creative languages.
Mural Open Call:
The Sanctuary Doors Project
At Epiphany Center for the Arts
Epiphany Center for the Arts is offering an opportunity to show artwork and win prize money through our Sanctuary Doors Open Call Project. Emerging artists, groups of young artists, or nonprofits interested in street art, graffiti, and murals are encouraged to apply to our biannual contest. The selected artist for each competition will then paint the winning design on Epiphany's vintage doors (circa 1885), which are installed permanently in the historic portion of our campus.
Submission forms will open on August 17 and be accepted up until the deadline of September 24. All submissions must include the following materials and information:
A full-color sketch or rendering of the idea
A project statement on how this project aligns with Epiphany's Mission
The artwork medium
Artist contact information
Artist or group social media links
A link to or an attached portfolio/cv
Proposals for our Vintage Door Project must be completed on the pair of doors displayed in the Sanctuary (pictured below). Dimensions and materials for these doors are available in the information packet PDF that is downloadable here.
Please submit your proposal using the form below – For more information or inquiries, email us at art@epiphanychi.com