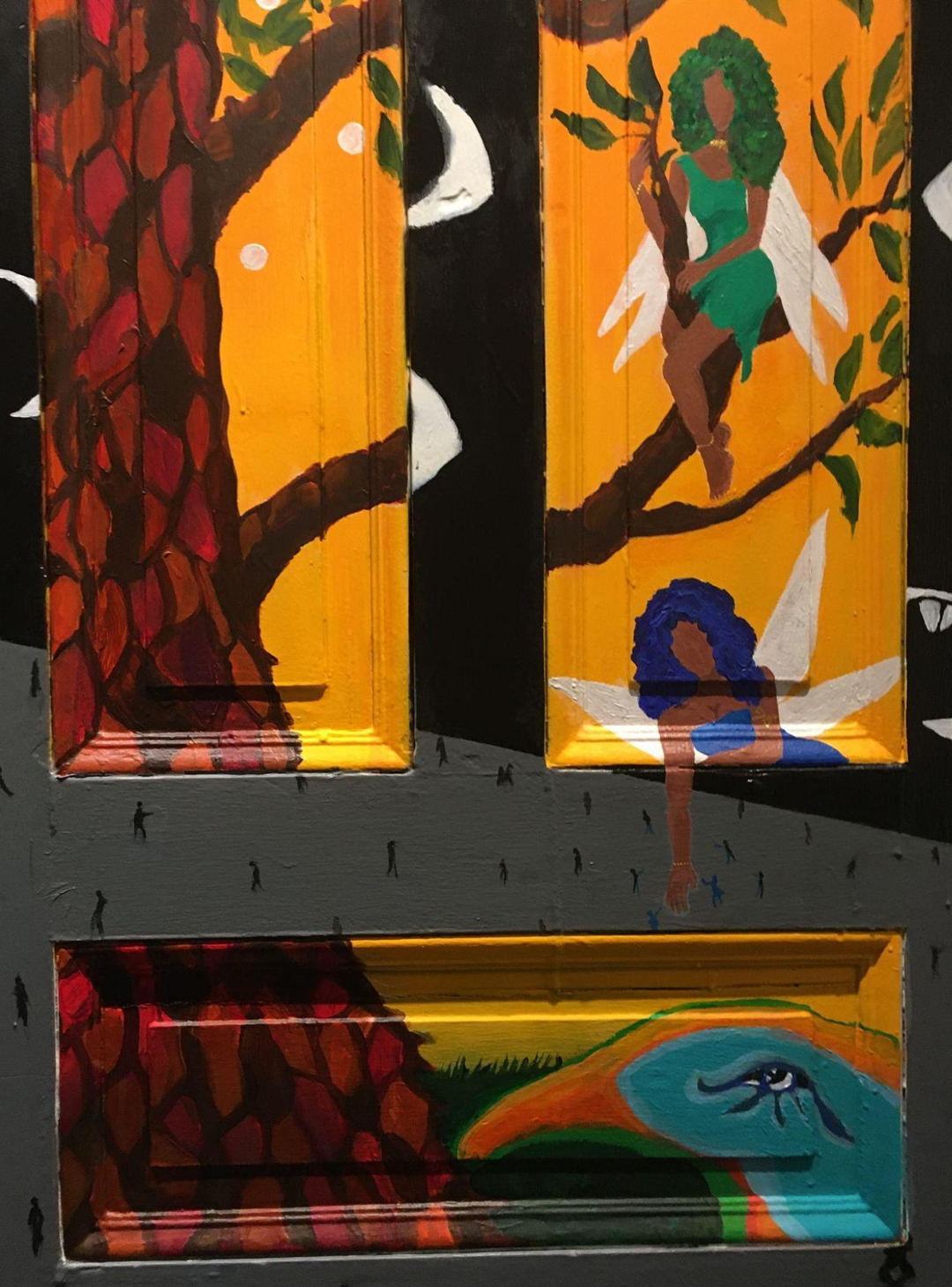 Through the Looking Glass
Through the Looking Glass
The Sanctuary at Epiphany Center for the Arts
This mural is a collaboration between Thresholds art therapist Kathy Osler and three artists: Cherylle Booker, Darrin Dillard and Paul Montalbano, who participate in a weekly Open Art Studio on the west side of Chicago. The painting within the framework of the door is in greyscale to represent the mundane and the pressures of modern, adult life. The eyes represent how individuals live with the internalized judgments and expectations of greater society. The composition includes several motifs designed by members/artists: brightly colored birds, a foundational tree and fairies that are breaking through to invite in people who notice this other plane. This artwork represents those windows where creativity sparks an epiphany and breaks through the mundane, freeing one's spirit from social expectations and allowing space for imagination and self-acceptance.
Through the Looking Glass is the first installment in the Sanctuary Door Project, a series of murals installed on the antique doors located in the Sanctuary Hallways at Epiphany Center for the Arts. This project gives artists and organizations the opportunity for personal growth and provides a platform to share their work with the diverse audience that comprises Epiphany's patrons.
Thresholds is Illinois' oldest and largest non-profit agency serving people suffering from severe and persistent mental illness and substance use. Thresholds supports individuals through community outreach and integrated health opportunities. Through unwavering community-based engagement, support, and advocacy, Thresholds helps people living with mental health and substance use conditions find a home, health, hope, and their own creative languages. They believe that everyone deserves the opportunity to live an independent, healthy life.
Thresholds Creative Arts Therapy Program is supported by passionate expressive arts therapists utilizing strengths-based and trauma-informed clinical frameworks to promote individual and community healing. Through evidence-based practices that foster self-expression, they work to build safe spaces for exploration and growth. Their clients are visual artists, musicians, performers, writers, and others interested in gaining insight into themselves and their worlds through developing and sharing their own creative languages.