VIEW THE COMPLETE ARTICLE HERE
Through Artistic Expression, Family Recipes and History Class, Filipino Americans In Chicago Are Exploring Identity and Reclaiming Narratives


Eunice Alpasan | October 12, 2023 5:43 pm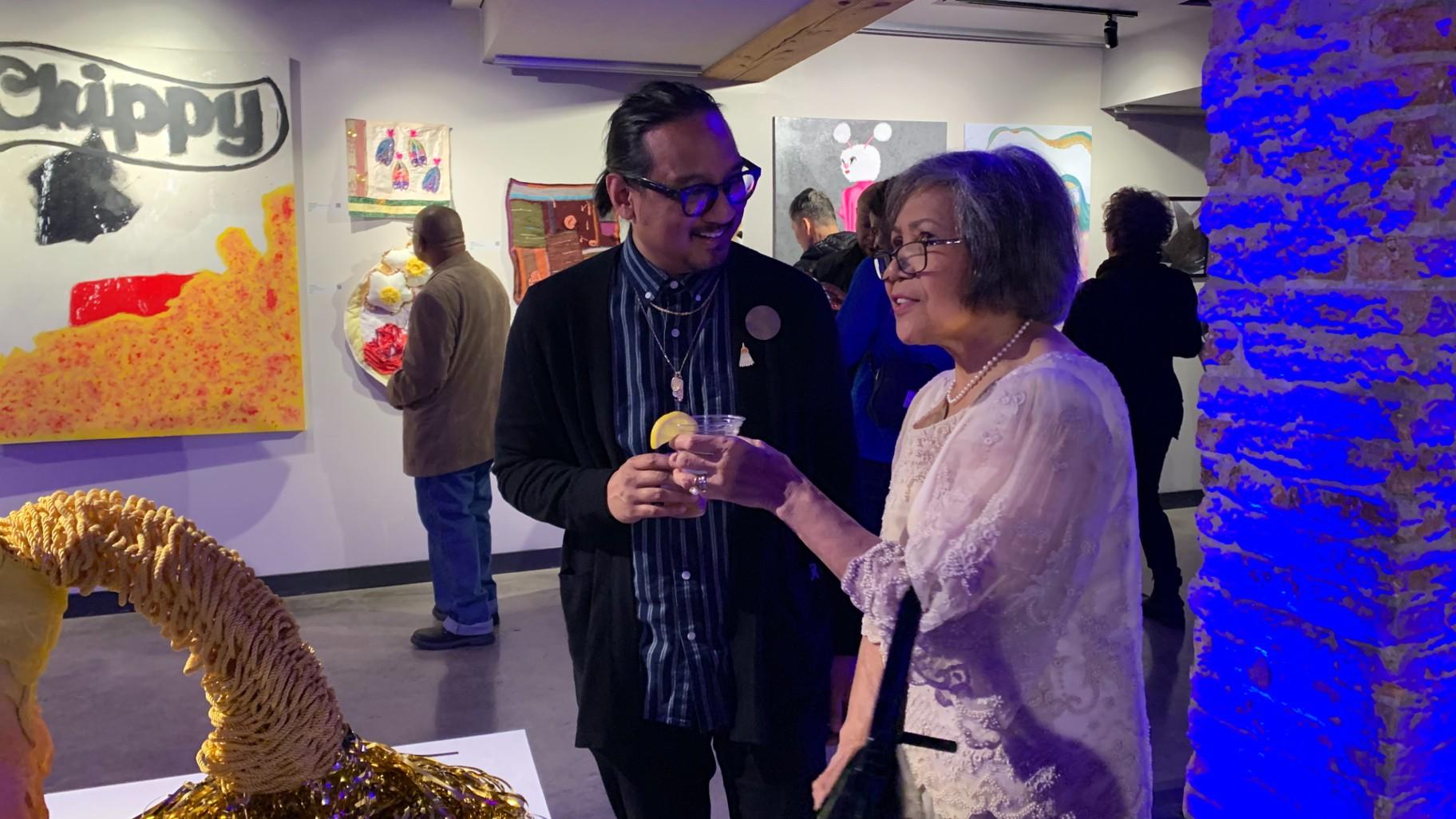 Artist James Bulosan, left, and artist Tita Recometa-Brady, having a conversation at the "More than Lumpia" art exhibit on Oct. 6 at the Epiphany Center for the Arts. (WTTW News / Eunice Alpasan)
One of the first art pieces visitors are met with when they enter the Catacombs Gallery of the Epiphany Center for the Arts in the West Loop has a small written message in the upper right-hand corner. With just a glance, some might even miss it. But with a closer look, the words can be made out: "Positively No Filipinos Allowed."
The work by Filipino American artist Magdalena Arguelles, created on a screen door, references an infamous photo taken of those words posted at the entrance of an establishment in California during the 1930s, directed toward early Filipino immigrants, or Manongs, many of whom worked as farm laborers.
"The reason the art piece is at the entrance of the exhibit is to shift the narrative," said curator and artist Cesar Conde. "Now, we are controlling the space."
The recently unveiled "More than Lumpia" exhibit coincides with Filipino American History Month in October, which puts a spotlight on the achievements of Filipino Americans, the stories of Filipino Americans throughout history and how that history is still felt today. It also highlights the ways in which that history is often overlooked in the U.S.
In Chicago, Filipino Americans have been working to change that.
Following student demand, the University of Illinois Chicago started to offer Introduction to Filipino American Studies for the first time this semester as a permanent general education course.
The documentary "Food Roots," which follows Chicago restaurant owner Billy Dec as he travels the Philippines to explore his family's history and culture through learning recipes from his last living elders, will be screening at the Chicago International Film Festival on Oct. 19 and Oct. 21.
More than 300 people attended the opening reception of the "More than Lumpia" art exhibit on Oct. 6, which aims to highlight the depth of Filipino American experiences and identity through works by dozens of Filipino American artists from the Chicago area.
Here are the stories of a few Filipino Americans as they embark on personal journeys of exploring identity, Filipino heritage and Filipino American history.
Seeing Yourself Reflected Through History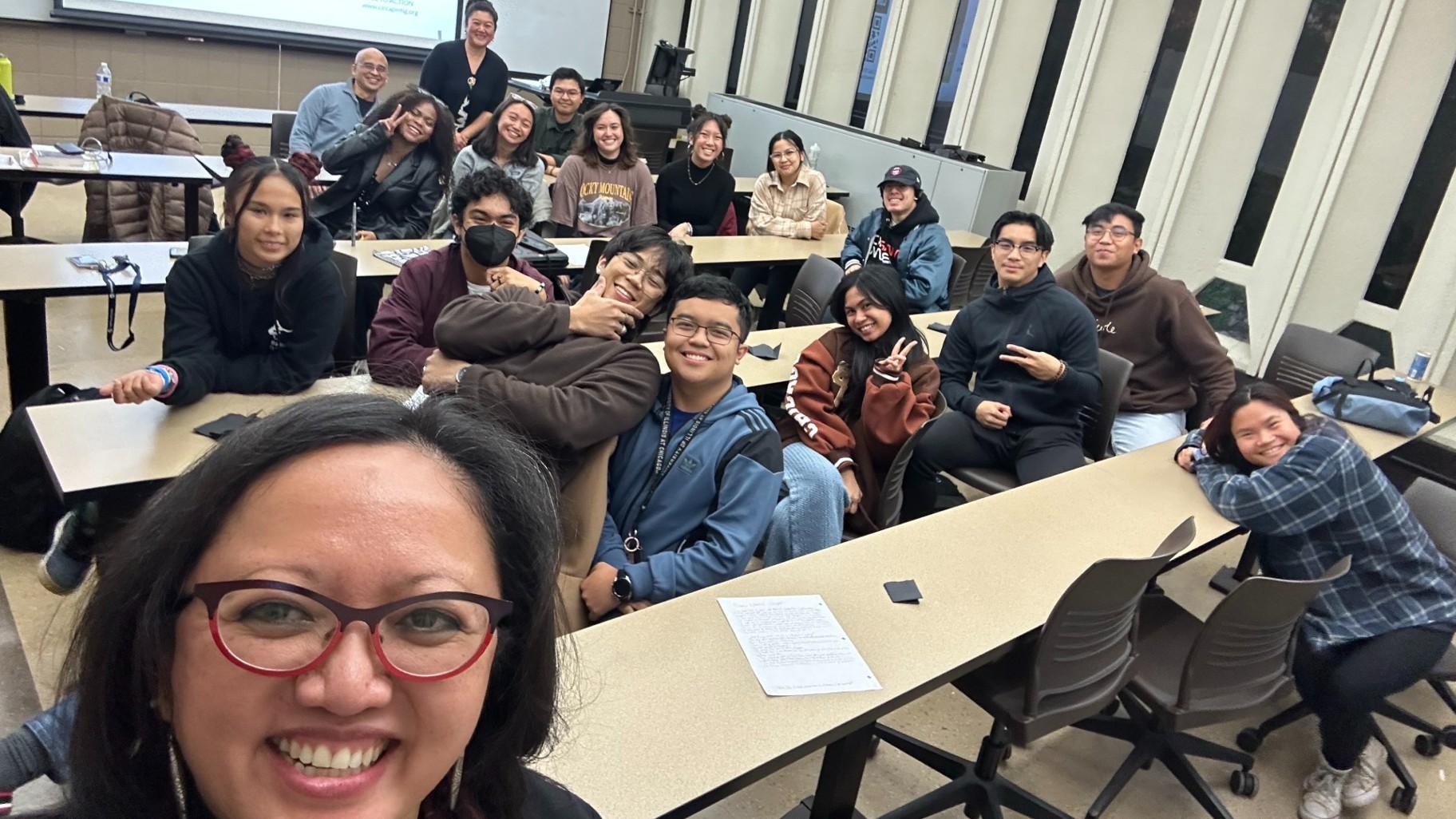 Students taking Intro to Filipino American Studies at UIC are visited by guests Ginger Leopoldo and Larry Leopoldo from the organization CIRCA-Pintig on Oct 10. (Courtesy of Anna Guevarra)
Breanna Williams was a freshman at UIC when she looked through the Global Asian Studies course catalog, saw Introduction to Filipino American Studies and expressed interest to program director and professor Anna Guevarra about wanting to take the class.
But at the time, the class wasn't being taught.
Now a sophomore, Williams is taking the course, which is now offered as a permanent general education class following increased student demand. For Williams, who is Filipino and Black, the lessons are personal.
"I wanted to learn more about my culture and I wanted to establish something for being a mixed Filipino because I think growing up, because I look more Black than I do Filipino, I always felt like an outsider," Williams said. "Even though I eat Filipino food, I speak Tagalog, I've always felt like I was different from other Filipinos."
In the class, students have explored their family history and immigration stories through assigned projects. They also learn about Filipino American history, Filipino activism and resistance, and the lasting impact of Spanish and American colonization of the Philippines on the Filipino diaspora and the lives of Filipino Americans today.
Guevarra, who is Filipino American, said, that by teaching the class, she aims to give students the tools to analyze why certain things might be happening in their lives and the historical and structural forces that contribute to their lived experiences.
A common experience comes in the form of a thought that crosses the minds of many young Filipino Americans as they think about what they want to be when they grow up: Why are there so many Filipino nurses? Why do I feel pushed to pursue it as well?
Guevarra said U.S. immigration pathways that recruit nurses from the Philippines to work in the U.S. are an example of the lasting impact of the U.S. Empire in the Philippines that is still felt today.
"I think it's shaped how Filipino Americans often envision what the American dream is and how that's often a dream that is chased by our families and has shaped our aspirations for what a good life is supposed to be," Guevarra said. "I think that has been an enormous impact in terms of what careers are pushed within family."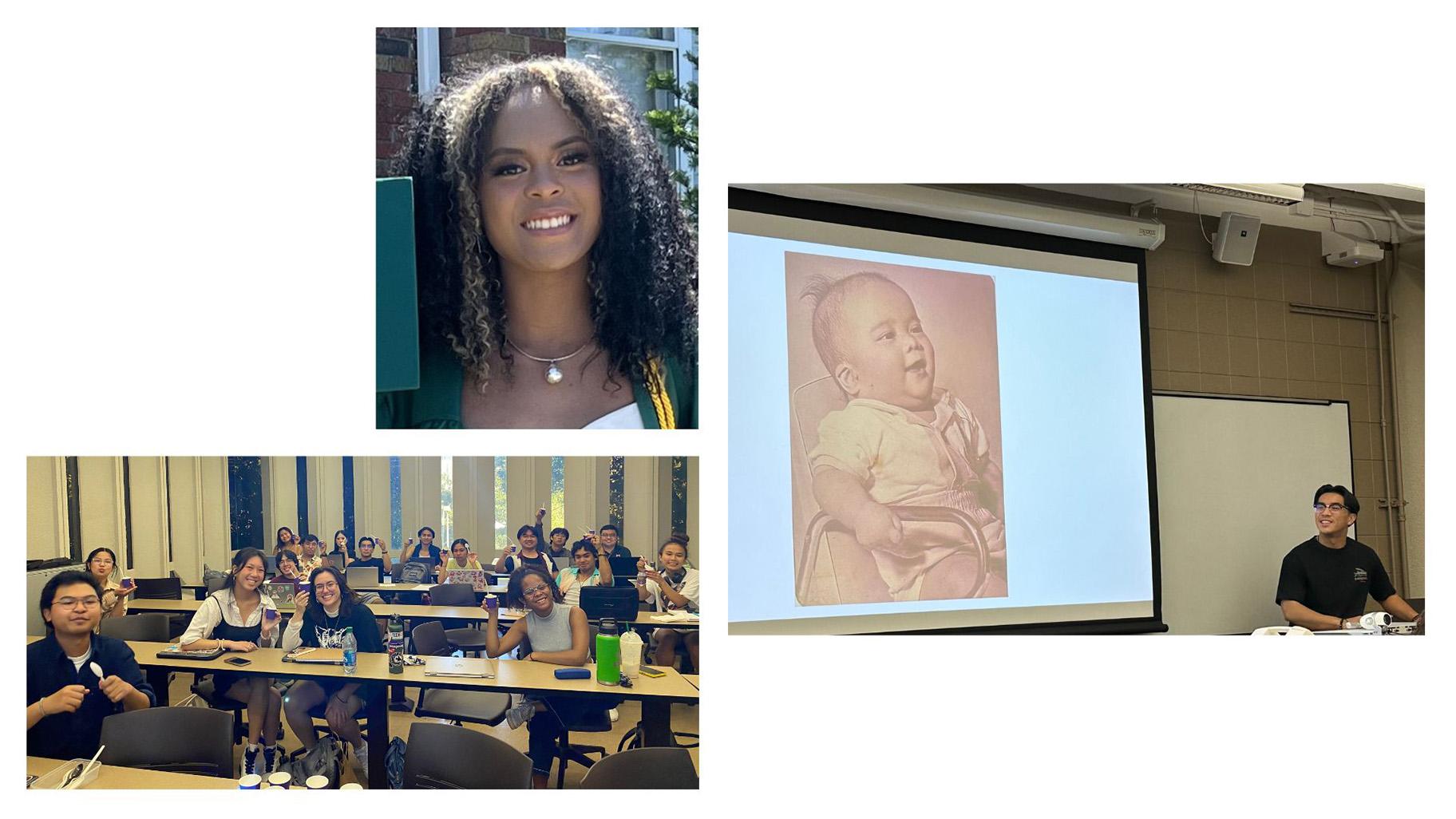 Top Left: Breanna Williams, sophomore at UIC, expressed interest in Intro to Filipino American Studies being offered through the Global Asian Studies program. (Courtesy of Breanna Williams). Bottom Left: Students taking Intro to Filipino American Studies at UIC eating ice cream on Oct. 3. (Courtesy of Mikaela Cruz). Right: Student Patrick Sengco presenting his Pamilya Migration History Oral History project on Oct. 3 that he conducted of his father Noel Sengco, pictured as a baby. (Courtesy of Anna Guevarra)
Guevarra said it's also important to recognize and make the connection that classes like hers are a result of ethnic studies curriculums that emerged during the height of the Civil Rights Movement following student protests.
"Even as we're learning about Filipino American history, it's important that history is intimately connected to Black history, to Arab American history, to Latinx history," Guevarra said. "Those students in the 60s really worked hard to make sure that they're learning not only about their histories but also how their histories are connected to each other."
For Williams,consuming different forms of media that she can relate to and speaking more with people of both her cultures, in addition to other mixed race people, has helped her better establish and be more comfortable with her Black Filipino identity. 
She said being the only Black Filipino in her family and not being exposed to other people like her growing up contributed to her insecurities, which is why seeing more Black Filipinos, at school and in industries like music with artists like H.E.R. and Saweetie, was important for her.
But, she said she still finds it difficult when she hears comments from people about not being Black enough or not looking Filipino. Williams said she also receives comments from people about how it's "so cool" that she's mixed race.
"I have constantly tried to prove myself, but I think there's also my mission of accepting myself and understanding that my identity is not based on other people's perceptions of me," Williams said. "If I start to feel confident, like, 'Yes, I'm Filipino, yes, I'm Black and I am a mixed race person,' people cannot define me based on their stereotypes."
'You Don't Know Where You're Going Unless You Know Where You're From'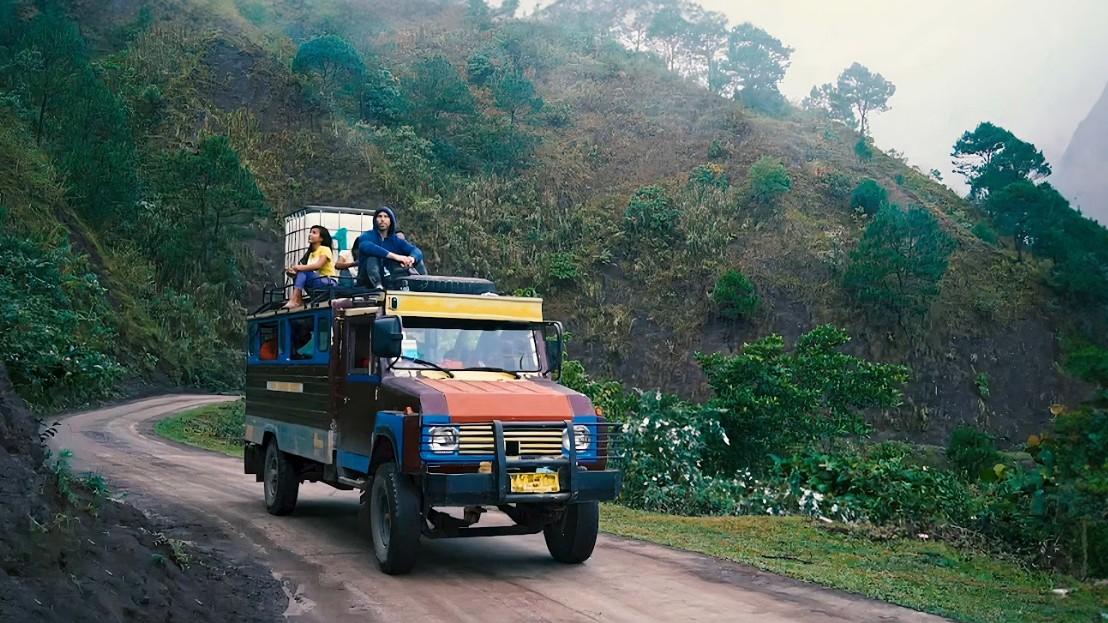 From the documentary "Food Roots" scheduled to screen at the Chicago International Film Festival later this month. (Courtesy of COACT Agency)
Billy Dec, who owns Sunda New Asian restaurant in River North, said he wasn't sure whether the documentary "Food Roots" would ever see the light of day.
After traveling and filming throughout the Philippines in 2019, Dec was expecting the documentary to air on PBS the following year for Asian American Heritage Month in May. However, the COVID-19 pandemic changed those plans.
Now, the documentary will be screening at the Chicago International Film Festival this month as part of its opening release spanning across several cities.
The idea behind "Food Roots," directed by Filipino American filmmaker Michele Josue, came after two of Dec's elders in the Philippines unexpectedly passed away, leaving only one of his elders left from that generation. It prompted him to travel back to the Philippines, after visiting many times as a kid, to reconnect with family and learn about the stories of his family's history through recipes of his ancestors.
"[The recipes were] never written down, it was always passed down by being present, but I wasn't present long enough, not living there," Dec said. "Then in America, we would succumb to the pressure of fitting in, so as an adult, I just felt a lot of guilt … When the deaths happened, it just grabbed my attention and I dropped everything and left to go to the Philippines."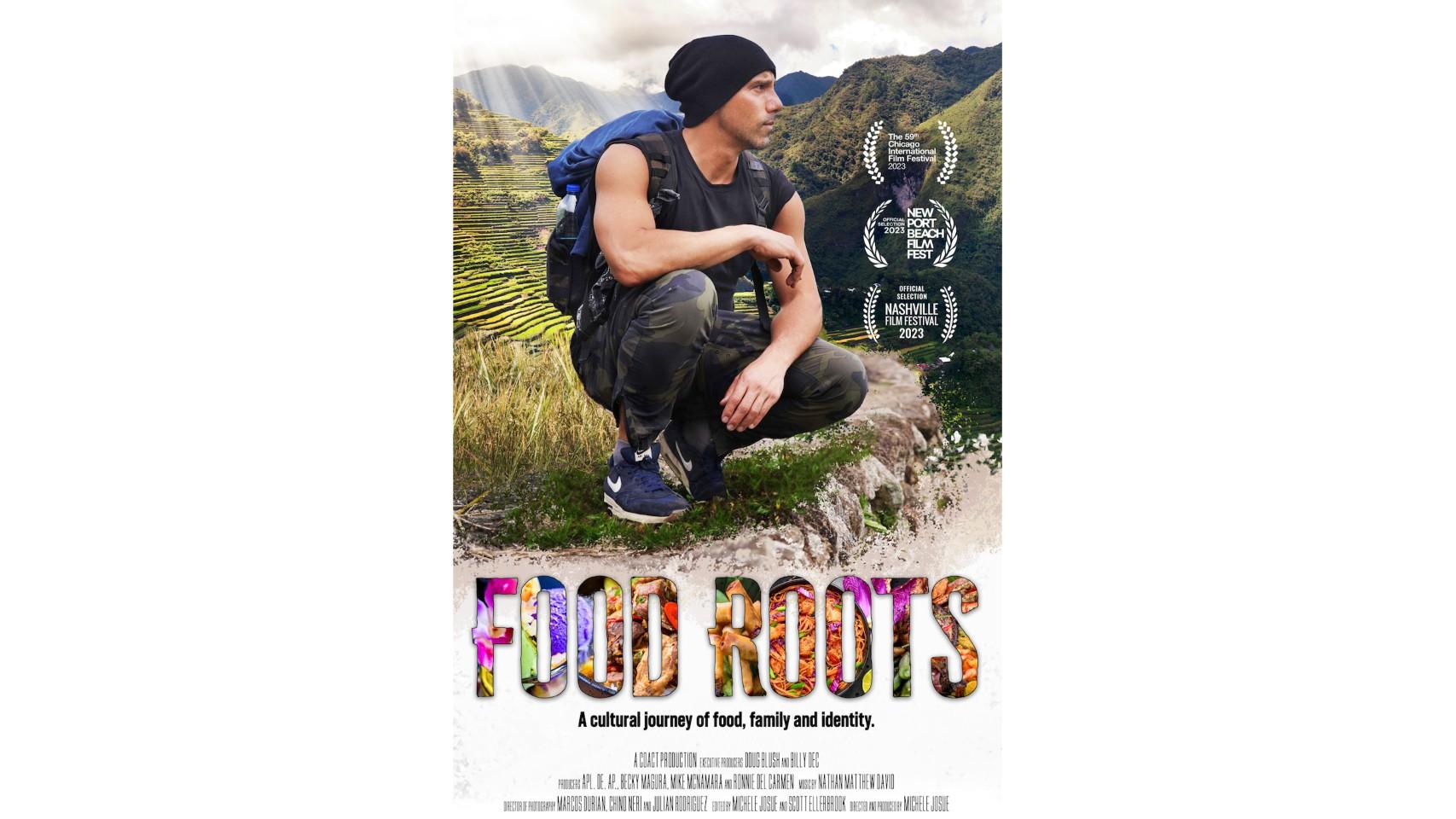 Poster for "Food Roots" documentary featuring Chicago restaurant owner and TV personality Billy Dec. (Courtesy of COACT Agency)
Dec, who is Filipino and White, said growing up within the four walls of his home in Chicago surrounded by family and Filipino cooking was a cheerful time in his life. It wasn't until high school and college that he started to hear comments that made him feel different.
"Being this ambiguously Brown kid at the time, it wasn't as normal or maybe interesting or intriguing as it is now," Dec said. "There's a lot of bullying around the food we ate and how we smelled because of the strong food."
Dec, whose career has ranged from being a lawyer and working in the White House to stints as a TV personality, actor and nightclub owner, said he was later able to revisit and dive into those experiences and connect the dots as to why his drive to succeed still somehow left a void within him.
Owning and operating Sunda was particularly rewarding for Dec because, through that work, he gets to tell people about Filipino culture at their tables. he said.
He added that part of his reason for initially opening Sunda, and later opening locations in Nashville and Tampa, was because he wanted people to see how beautiful Southeast Asian food is — in areas where it's not as prominent — as opposed to the ways it was frowned upon when he was a kid.
Screenings for the documentary "Food Roots" at the Chicago International Film Festival are scheduled for Oct. 19 and Oct. 21 at the AMC NEWCITY on the Near North Side. "One of the quotes of the film is from my Lolo Monico who used to say, 'You don't know where you're going unless you know where you're from,'" Dec said.
Breaking Stereotypes and Promoting Representation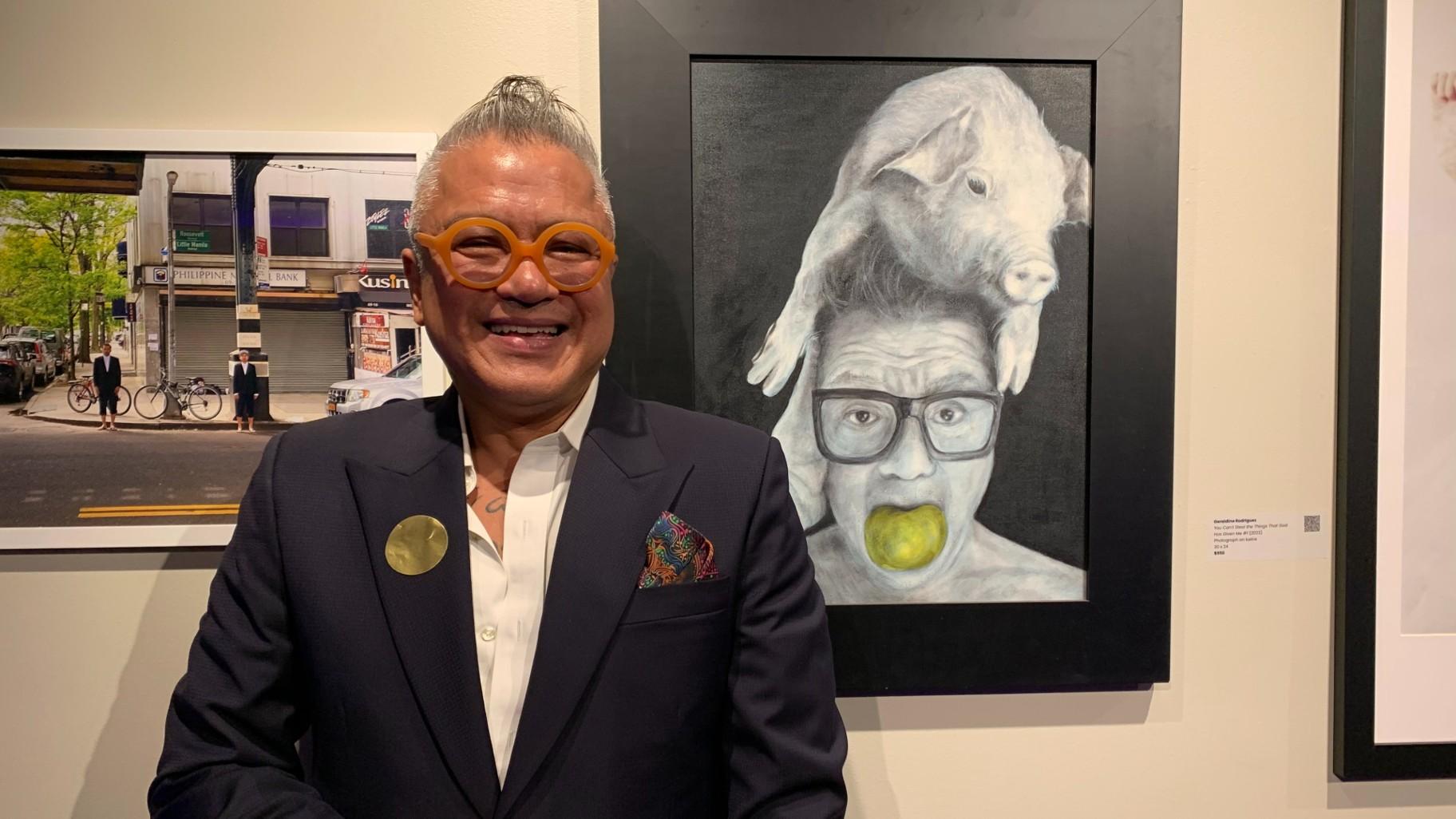 Artist and curator Cesar Conde with his artwork "Pig-Headed" at the "More than Lumpia" art exhibit on Oct. 6 at the Epiphany Center for the Arts. (WTTW News / Eunice Alpasan)
Artist and art curator Cesar Conde said he chose to name the art exhibit "More than Lumpia" – a reference to the Filipino spring roll – as a reminder in light of Filipino cuisine continuing to gain recognition and popularity in the U.S.
"I really wanted that space to express that we are more than the food that we're known for," Conde said. "We are a major contributor in society; however, we still remain somewhat invisible in the field of fine arts."
Conde said moving from the Philippines to the U.S. in 1975 started his journey of slowly discovering himself and his queerness. But growing up in the U.S., he also felt pressure to assimilate into white American culture. Other kids at school hit him, made fun of his accent and called him racial slurs. He also had to confront racism within his own family and community.
It wasn't until his 20s that he was able to go to therapy and understand where his self-hate came from and the self-love he needed to learn instead.
"I was able to go to therapy and I understand what racism is, my self-hate that I've been programmed because I don't have the pointy nose, I don't have the mestizo look and I don't have the lighter skin," Conde said. "The expression through the arts has been the most healing for me and it's given me the confidence of delving into my own identity."
When Filipino Americans visit the "More than Lumpia" art exhibit, Conde said he wants them to feel supported and empowered, especially younger generations who are navigating their identity and finding a space for themselves. He also wants people to be interested in Filipino American culture, distinct from Filipino culture.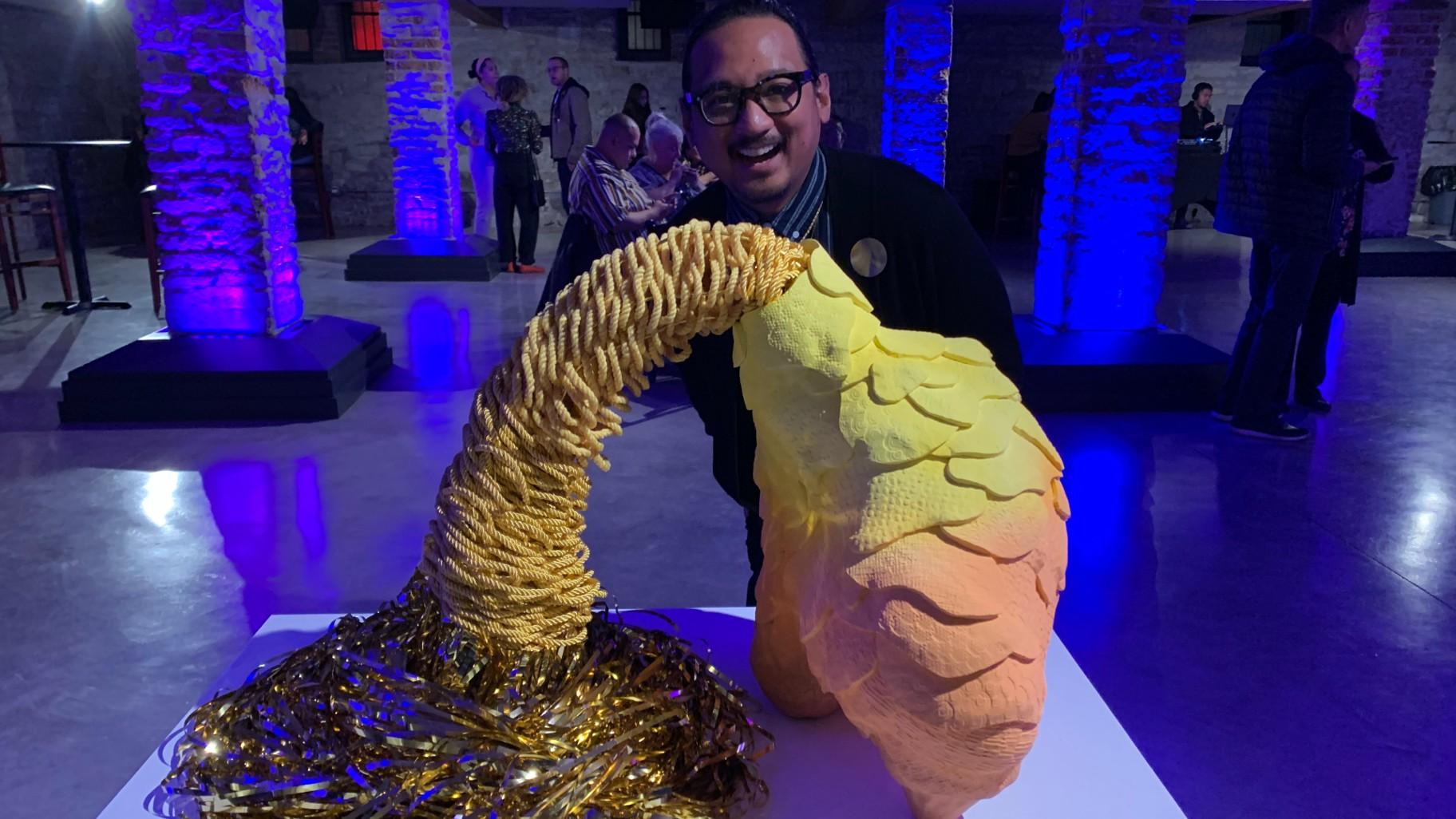 Art educator and art therapist James Bulosan with his artwork "Seen What I Never Seen Before" at the "More than Lumpia" art exhibit on Oct. 6 at the Epiphany Center for the Arts. (WTTW News / Eunice Alpasan)
James Bulosan, whose artwork "Seen What I Never Seen Before" is on display at the exhibit, said an all Filipino American and multi-generational art shows like "More than Lumpia" didn't exist five years ago in the way that they do now.
Bulosan said Filipino artists are now at a turning point to establish themselves and create space for their art to be celebrated — even if it's outside the realm of what is considered fine art.
"There are things that are happening within our culture that should be seen as fine art forms that aren't necessarily seen that way," Bulosan said. "I think about my Lola when she was sewing my clothes, fixing my clothes, making quilts and blankets. Where to me, those can exist as high art forms, we don't necessarily think of them that way."
Bulosan said he tries to explore the writings of Philippine national hero José Rizal in his own work, which explores the effects of colonialism as a "slow rot" represented through the loss of traditions and with the replacement of unrelated, far-removed aesthetics.
Bulosan said his decision to become an art therapist was a way for him to incorporate his creative side while also appealing to his parents by picking a medical-adjacent field, a push felt by many Filipino Americans that he said is a layer of colonization.
"Inherent within that [decision] was unpacking all of these forms of internalized oppression that we carry without even knowing about it as Filipino Americans," Bulosan said. "There are these remnants of colonialism that we're constantly carrying and negotiating as we try to make our way through the systems that exist here in America while trying to negotiate that through the lens of the expectations of our parents, but also the weight that we carry of being representative of the Philippines back home as well."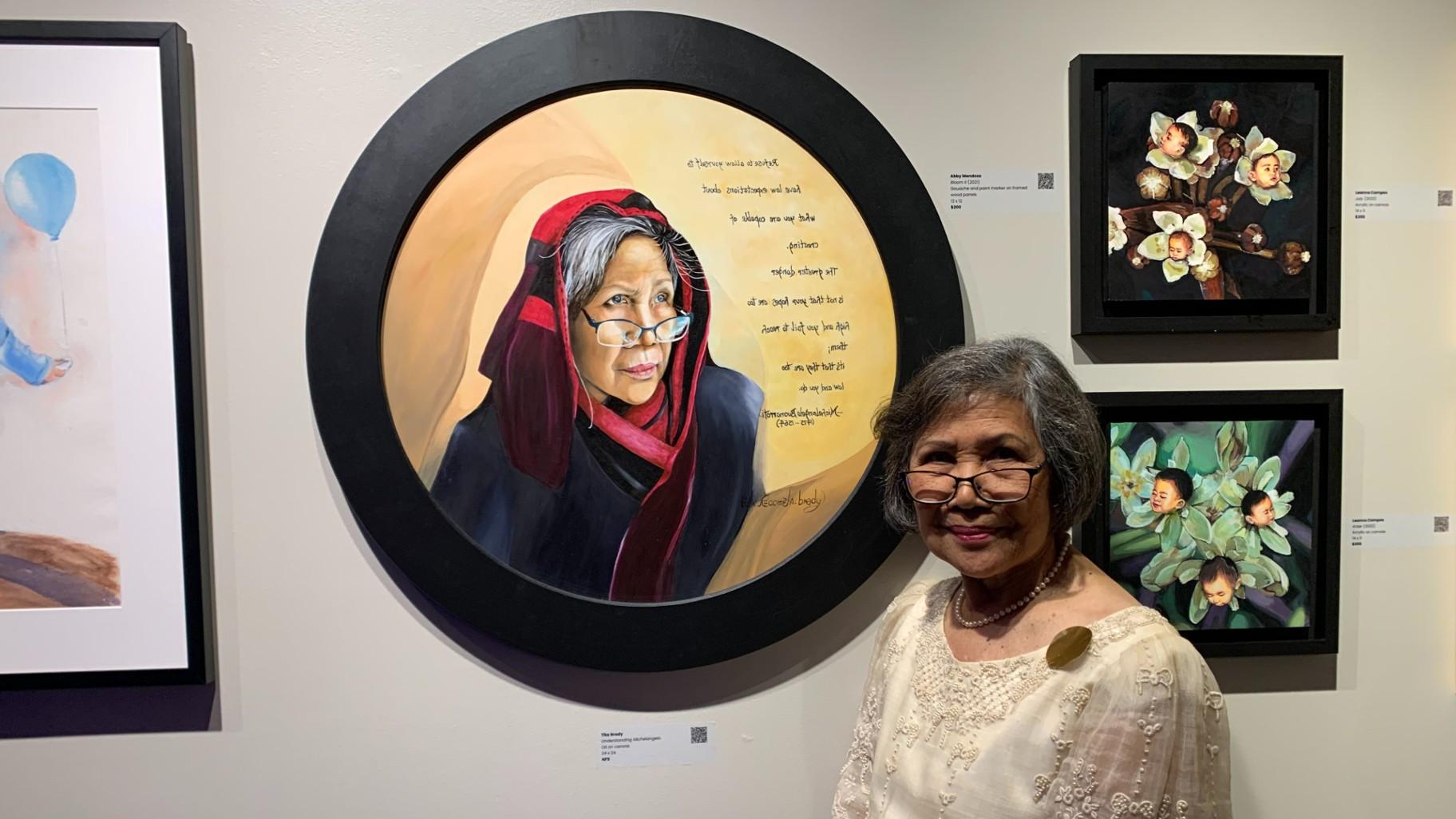 Artist Tita Recometa-Brady's with her artwork "Understanding Michelangelo" at the "More than Lumpia" art exhibit on Oct. 6 at the Epiphany Center for the Arts. (WTTW News / Eunice Alpasan)
Tita Recometa-Brady's art piece "Understanding Michelangelo" is also on display at the "More than Lumpia" art exhibit. Recometa-Brady moved to the U.S. in 1966 after receiving a Fulbright-Hays scholarship as part of a program sponsored by the U.S. Department of Education that gave her the opportunity to study in the country.
Recometa-Brady said the exhibit, and a scattering of other individual artist exhibits in the greater Midwest area, are the few instances of Filipino-American artist representation that she has encountered in her career as an artist. She said "More than Lumpia" serves as an example of how the actions of a few can make a difference.
"It takes one person or a group, just like what Cesar did, who can easily spearhead, and the movement will move and go forward," Recometa-Brady said.
The "More than Lumpia" art exhibit runs through Nov. 17 at the Epiphany Center for the Arts.
Contact Eunice Alpasan: @eunicealpasan | 773-509-5362 | ealpasan@wttw.com