The Sanctuary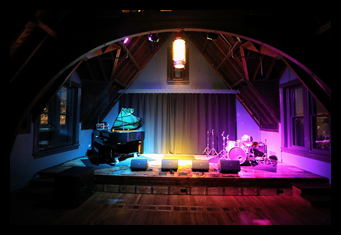 THE SANCTUARY is a remarkably quaint, romantic retreat, certain to charm all who cross its threshold. Imagine a grand staircase leading to a vintage room with vaulted ceiling, stained glass windows, vintage chandeliers, a built-in stage, complemented by a private Niche Bar and The Lounge. Offering classic elegance at its best, The Sanctuary is ideal for an intimate wedding celebration, and when paired with Epiphany Hall or Chase House, makes an unforgettable impression for rehearsal dinner, bridal suite, man cave, or VIP after-party.
One of a Kind Space
Amazing Acoustics
State of  the Art Audio /  Visual Equipment
Catering Kitchen Available
Epiphany Hall embraces whimsical elements in its interior design while preserving the historic qualities. Its Queen Anne detailing, including arched ceilings and Tiffany stained glass windows, nod to the fact that the building was previously a church. The open floor plan allows the hall to be used for almost any seating configuration, including theater, banquet, and more. The room can accommodate 460 guests for a seated dining experience. It can also be booked with the adjacent Guild Hall for additional space.
Technical Info
CLICK HERE TO DOWNLOAD ALL TECH SPECS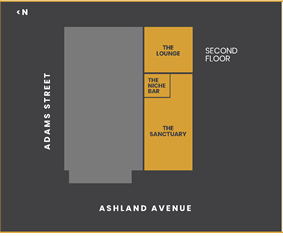 The Sanctuary can accommodate up to xxx seated guests. x Stage Dimensions
3' 10" high
20' 5" deep
44' wide including wings
29'11" width between inner edges of D&B
Line Arrays
Wing Stage Left: 6'7" x 20'6" (WxD) Wing Stage Right: 7'8" x 2'6"
Clearance
11'8.5'' stage floor to center I-beam clear-ance
14' stage floor to ceiling clearance
13'10" stage floor to acoustical ceiling tiles (Acoustical panels are 2' by 2' panels layed out in a checkerboard style and cover the stage ceiling)
14'6" width between ceiling center I-beam and ceiling stage left/right I-beams
Alley Access
Elevator width 6.9 depth. 5.5 height. 7' opening 41'' Double 4' wide stair cases on both sides of the venue Stage Access: 3 sets of 4.5' wide stairs
Parking
Touring vehicles (Bus, Van, Truck transporting band members and or equipment) are to be parked along the west side of the building near the back alley.
.PA Setup:
D&B audiotechnikMains – 2 hangs totalTops per hang =
4 x Vi8 + 2 x Vi12 Subs per stack =
3 x B2- middle cabinet reversed for cardioid configuration- 4 stacks total
Mixers
2 x Pioneer DJM 900 nexus 2 x Pinoeer DJM 800
1 x Rane sixty two
1 x Rane fifty seven
Microphones
6 – sm81
2 – Beta 91a
10 – sm 58
2 – Beta 52a
9 – Beta58a
4 – SM58 ULXD24D (wireless) 4 – sennhesier e604
1 – sennhesier e609
20 – sm57
DIs
2 – radialpro d2 (stereo)
1 – JDI (mono)
1 – pcDI (stereo)
1 – Whirwind – direct 2 (stereo) 7 – Whirlwind – edb1
6 – Director (mono)
Lights
5 – Chauvet Rogue R2 Wash 7 – Chauvet Rogue R1 Wash 2 – Elation design spot 300s 6 – LED par cans (downstage) 10 – Chauvet slim-par 64 LED (upstage pipe)
Lighting Console
Hog 3 programming/playback wing running
Hog 4 pc software v2.5.0
Power
Audio Power (stage left wall)
100 amps over 12 circuits (20 amp break-ers on each circuit)

Audio Power Disconnect (stage right) 200 amp 3 phase (bare end to camlock tails & distro needed for tie in)
Lighting Power Disconnect (stage right) 400 amp 3phase (bare end to camlock tails & distro needed for tie in)