The Catacombs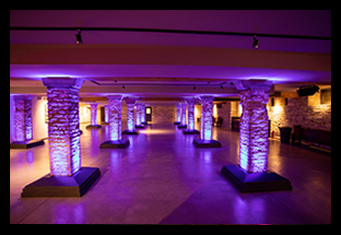 The Catacombs is a remarkably quaint, romantic retreat, certain to charm all who cross its threshold. Imagine a grand staircase leading to a vintage room with vaulted ceiling, stained glass windows, vintage chandeliers, a built-in stage, complemented by a private Niche Bar and The Lounge. Offering classic elegance at its best, The Sanctuary is ideal for an intimate wedding celebration, and when paired with Epiphany Hall or Chase House, makes an unforgettable impression for rehearsal dinner, bridal suite, man cave, or VIP after-party.
One of a Kind Space
Amazing Acoustics
State of  the Art Audio /  Visual Equipment
Catering Kitchen Available
Epiphany Hall embraces whimsical elements in its interior design while preserving the historic qualities. Its Queen Anne detailing, including arched ceilings and Tiffany stained glass windows, nod to the fact that the building was previously a church. The open floor plan allows the hall to be used for almost any seating configuration, including theater, banquet, and more. The room can accommodate 460 guests for a seated dining experience. It can also be booked with the adjacent Guild Hall for additional space.
Technical Info
CLICK HERE TO DOWNLOAD ALL TECH SPECS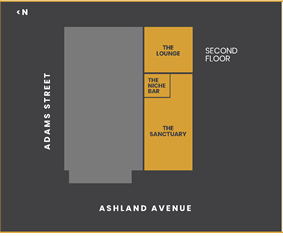 The Catacombs can accommodate up to xxx seated guests. x Stage Dimensions
3' 10" high
20' 5" deep
44' wide including wings
29'11" width between inner edges of D&B
Line Arrays
Wing Stage Left: 6'7" x 20'6" (WxD) Wing Stage Right: 7'8" x 2'6"
Clearance
11'8.5'' stage floor to center I-beam clear-ance
14' stage floor to ceiling clearance
13'10" stage floor to acoustical ceiling tiles (Acoustical panels are 2' by 2' panels layed out in a checkerboard style and cover the stage ceiling)
14'6" width between ceiling center I-beam and ceiling stage left/right I-beams